Local
Medulloblastomas arise most often in the midline cerebellar vermis.
Tumor usually grows to fill the 4th ventricle, and commonly involves the brachium pontis and extends onto the ventricular floor (i.e. the brainstem).
Medulloblastomas may grow to fill the entire posterior fossa, invading other CNS structures.
Unlike ependymomas they do not tend to extend through the foramina of Luschka.
The image below shows a large midline posterior fossa tumor (T) - this is a medulloblastoma.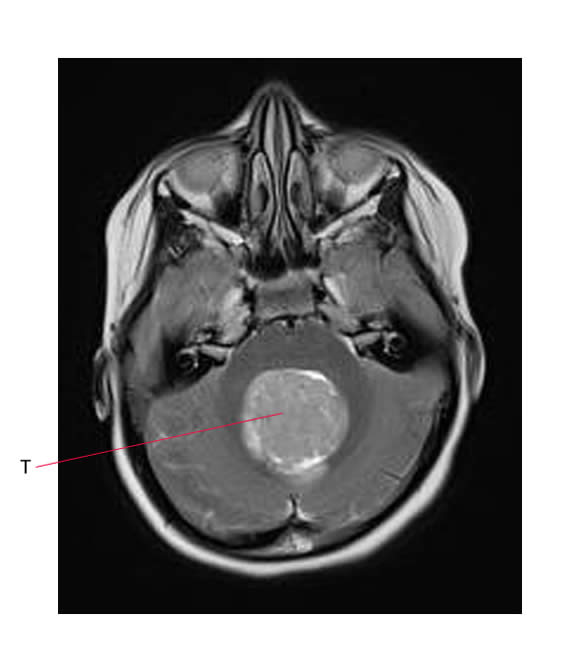 Distant
Widespread seeding of the subarachnoid space may occur (risk of this is 10 - 45%).
Spinal leptomeningeal disease, appears in about 30% of cases at presentation.
Intracranial metastasis are less common.
Distant metastases are rare but may occur in bone marrow/bone.
The MR below shows multiple nodules of metastatic disease involving the subarachnoid space in a child's spine. #1 points to a large nodule.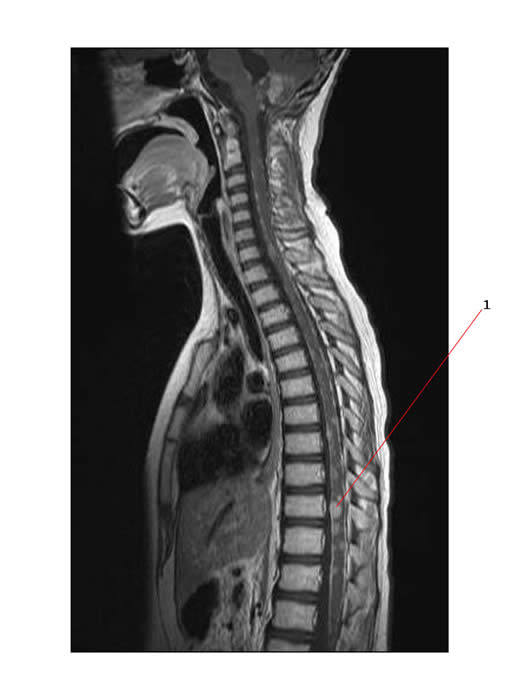 Summary of Patterns of Medulloblastoma Spread:
Local

Grows to fill and obstruct the 4th ventricle
Commonly involves the brachium pontis
Extends onto the floor of the IV

th

ventricle and may involve brainstem (often after resection of a medulloblastoma, a thin film of tumor remains as resection in this area would be potentially dangerous and result in damage to the brainstem)

CSF

Leptomeningeal involvement in 10 - 45% of cases




Hematogeneous

Very uncommon, but metastatic disease can occur in bone
Reported to occur in liver, but this is extremely rare

VP Shunt

When VP (ventriculo-peritoneal) shunts were in common use, metastatic disease could spread down the shunt to involve the peritoneal cavity